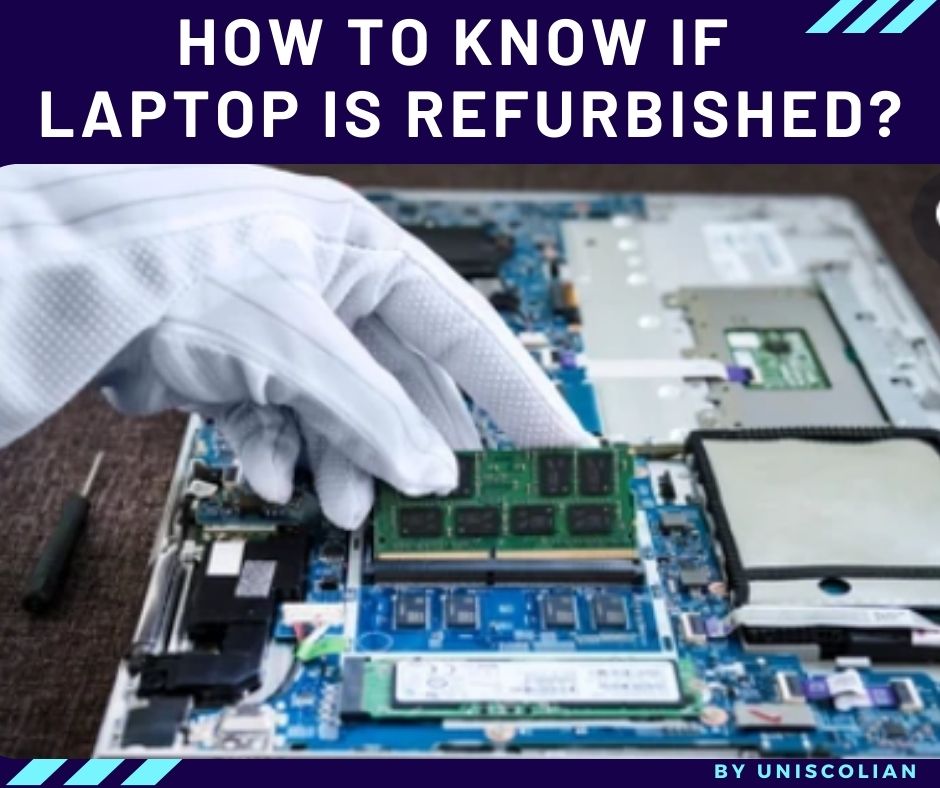 The Refurbished Laptops are largely pre-owned laptops that have been returned by their original users. It may be due to some reasons like fault or any other condition. These laptops are inspected closely and tested for all possible errors, problems if it is found in good working condition these refurbished laptops are sold in the market at much-discounted rates.
It is seen that refurbished laptops are sold at affordable prices in comparison to the new laptops. For instance, if you want to buy a laptop with certain specifications and features then undercoated refurbished laptops may suit your available budget. These refurbished models are available across various brands for example Dell, Lenovo, HP, etc.
The refurbished laptops are generally tested and certified by the manufacturer to ensure they work as per original standards.
Refurbished laptops come with a warranty of 1 year, some companies also offer extended warranty for such pre-used products. There is a big advantage in buying such a refurbished laptop like it is available at many affordable rates than new laptops, it provides the best performance than the other laptop in the same range. It is also good for students who cannot afford much to buy an original laptop, they can easily opt for refurbished laptops that are cheap but provide all features.
Refurbished models are available in the market, you just need to come up with your convenient selection of brand and the model, there is no need to worry about the authenticity of refurbished laptops. You can buy laptops at affordable rates but still, you will get all features and durability of a new laptop. If you are choosing refurbished laptops then it is advised that make sure your bought product comes with a warranty period offered by the manufacturer.
If any problem occurs due to refurbished laptops then you can complain within the warranty period. Warranties vary from company to company, some companies offer a 1-year warranty whereas some companies offer a warranty of up to 3 years. For example, Dell offers one year warranty on refurbished models whereas Lenovo offers a warranty of 2 years and HP has another type of policy for such refurbished laptops so it is advised to read terms and conditions before buying such products.
Refurbished laptops are the best option when you want to buy a laptop for your daily personal use as it can be used by students, employees, and even housewives. Just make sure to buy the product which comes with a warranty and fulfills your needs and requirements.
1. Tampered Screws Or Hardware
One dead giveaway of a refurbished laptop is if the screws have been tampered with, or taken off and put back on. It's not a difficult task for someone to remove screws on a laptop, as most laptops can be disassembled quickly by unscrewing a few parts that hold the keyboard, trackpad and other hardware in place.
2. Different Software And Operating System
If the laptop has a different version of an operating system compared to what it should be running out of the box, or if you can't find the original software that came with the computer, then there is a good chance it's refurbished. Sometimes, during a refurbishing process, the factory that owns the laptop will install a different operating system on it.
3. Battery Runtime Issues
Battery runtime is an important factor you need to pay attention to when buying a new laptop or deciding whether or not a refurbished model is in good condition. Generally speaking, laptops with a battery runtime of less than three hours should be avoided. However, some refurbished models might not come with a battery at all, which is something to keep in mind when buying a laptop that doesn't seem new on the outside.
4. Hardware Wear And Tear
A good place to look for signs of wear and tear on a non-new piece of technology is around ports like USB and Ethernet. If they are looking worn down, or the plastic is bare in some places, then this might indicate that the laptop was refurbished.
5. Refurbished Sticker Indicator
Most refurbished laptops generally come with a big 'refurbished' sticker on their casing as a sign of transparency and honesty from the manufacturer. If the laptop you're looking to buy doesn't have one, then there is a good chance that it was refurbished by someone else.
Related Article: How To Fix Laptop Power Jack Without Soldering? Step by step guide 2022
What do refurbished laptops mean?
Refurbished laptops are often sold for a fraction of the cost of new ones, but there are certain things to be aware of when buying these kinds of products. For example, refurbished laptops are usually sent back to manufacturers for some problems or malfunctions within the product, and manufacturers will repair it instead of giving owners a new laptop. However, refurbished laptops are often sold with all the accessories new laptops have, but it may not include an official warranty.
A refurbished laptop can be bought on some online shops, or at offline shops. However, before buying one, it is important to research what these products can offer so that you know what you're buying first. If there are problems with the laptop, it can be returned to the shop where you bought it.
Nowadays, refurbished laptops aren't just sold with defects or malfunctions that were repaired. For example, some manufacturers might change parts of the product that are not working well for higher quality ones. This process also applies if there was something wrong with the software. A refurbished laptop might be made from parts of different laptops, but it doesn't mean that it's a bad product. In fact, these kinds of products are as good as new ones, and can also have all the accessories new laptops have. However, this particular kind of laptop may not include an official warranty from manufacturers, and some shops selling refurbished laptops may only provide a return policy.
If you're looking to buy a new laptop, it might be better for you to get a refurbished one instead of buying an expensive brand new product. Refurbished laptops can still last long and work well like regular new products, but they're usually sold at lower prices.
Refurbished laptops are often sold at lower prices because of various reasons, but they can still work as good as new ones, and some shops may provide you with return policies if there is anything wrong with the product you bought. It's better to research what refurbished laptops can offer before buying one so that you won't have any problems with your product in the future.
Is it good to buy a refurbished laptop?
When looking for a laptop, most people go to the store and buy the first one they see. There are pros and cons to buying refurbished laptops. A pro is that it's less expensive in comparison to buying a new laptop; however, there are several cons which should be considered also.
There can be many reasons why you would want to buy a refurbished laptop. For instance, you may want to save money or maybe your child dropped your laptop and now it doesn't work properly. Buying refurbished can be a cost-saving option for some people. It is also possible that the person has changed their mind about the type of laptop they originally wanted to purchase after already buying it.
When purchasing a refurbished laptop, keep in mind there are some items you should check before buying. First of all, make sure the power adapter is included or purchase it at the same time you buy the laptop itself. Next, try to look for an extended warranty if possible because this would provide you with more coverage if something were to happen to your laptop.
There are also some things to consider before buying a refurbished laptop because it may not be as high quality as you'd expect if you were to buy a brand new one. For example, sometimes the computer wouldn't function properly because only minor repairs were done. Laptop screens can look fine on the outside but problems can be hidden underneath. If you're considering a refurbished laptop, make sure the warranty covers your needs and requirements.
If you are looking to save money or need something right away instead of waiting for it, buying refurbished is an option worth researching before making a decision. However, there are some things to think about before deciding this option is right for you.
Related Article: Best Budget Laptops for Civil Engineering Students in 2022
What are the disadvantages of a refurbished laptop?
A refurbished laptop can be a cost effective option for someone looking to buy a new laptop. People also see refurbished laptops as an opportunity to own a newer model of a laptop, since most will upgrade their laptops in about three years and the laptops that haven't been sold yet are likely gone forever. However, not all laptop models are refurbished and refurbished laptops may not come with a warranty, which is a big disadvantage for many customers.
A common term used to describe a laptop that has been restored back to its original operating condition after being returned by a buyer or having been on the shelf for some time, is "refurbished laptop." As stated above, these laptops come in a range of prices and different specifications. The advantages to a refurbished laptop are that they typically cost less than a new laptop while still maintaining many of the same features. Refurbished laptops also give people the opportunity to upgrade their older laptop, while still having some sort of guarantee from the manufacturer.
Another advantage is the fact that refurbished laptops come in a wide range of sizes, shapes and specifications. Whether the buyer is looking for a laptop with more storage space or simply one that can complete basic tasks such as sending emails and browsing the internet, there will be a refurbished model available to meet their needs. The biggest disadvantage to purchasing a refurbished laptop is not knowing how long the laptop will last. Since sometimes refurbished laptops are sold as "as-is" and do not come with a warranty, there is no way of knowing how much money can be lost if the product malfunctions quickly or does not work properly.
One of the most common disadvantages listed by people who purchase refurbished laptops is that refurbished laptops do not come with a warranty. Since many people feel that a warranty for a refurbished laptop does not make sense, they will forego purchasing the product altogether. People may also find that the price point of a refurbished laptop is simply too expensive for what can be provided. Finding a reputable company from which to purchase a refurbished laptop is important for those who are looking to purchase one of these products.
There are several disadvantages to buying a refurbished laptop, the biggest being that they will not come with any kind of warranty. This makes it more dangerous than purchasing a new laptop, since there is no way to know if the product will malfunction or stop working all together. If the laptop malfunctions quickly, there is no way of getting a new one without paying out of pocket for it. Another disadvantage to buying a refurbished laptop is that they come with different specifications than a brand new laptop and the price may be higher than many would like it to be. While these laptops can be an ideal purchase for those looking to buy a new laptop and save money, without the warranty and high price point, many may stay away from them altogether.
How old are refurbished laptops?
Refurbished laptops are often the best choice for those who do not want to pay full price, or who just can't afford a brand new laptop. Even though refurbished laptops are used devices, they still offer most of the perks that come with owning a brand new laptop; however, there are quite a few facts to consider before you buy one.
Laptops are typically refurbished after they have reached either the end of their useful life or because they were returned to the manufacturer due to some defect, which is why you don't see too many very old refurbished laptops on sale at places like eBay or Craigslist. However, refurbished laptops usually last just as long as brand new laptops, with the same warranty and features.
The majority of refurbished laptops for sale at online retailers like Amazon or eBay are less than a year old, but a decent selection of refurbished laptop deals can be found on those sites that include units from past years. For instance, you can find plenty of models going for anywhere between ten and fifteen percent off the original retail price, which makes them a great deal.
On eBay or Amazon, you can find refurbished laptops that are close to five years old for about one-tenth of the original price, but these units do come with major drawbacks; most notably their extremely low processing power and small hard drives. Sometimes people will refurbish themselves older laptops, which can be a bit more difficult than refurbishing other devices.
Refurbished laptops come with the same limited warranty as brand new laptops, and they are just as reliable as their newer counterparts. You should check out our article about what to expect from refurbished models for more information on how long refurbished laptops last.
How long do refurbished laptops last?
Refurbished laptops can last as long as brand new ones, or they can be rendered useless more quickly if they're not properly refurbished.
Laptops that are sent to a manufacturer for refurbishing will typically be tested and analyzed before being restored to their original working conditions, which is why many people argue that refurbished laptops last longer than brand new laptops.
In order for a refurbished laptop to last just as long as one that is brand new, it will have to be thoroughly tested and cleaned, both inside and out. For instance, dust can accumulate in the fans of a laptop over time, which makes them less efficient and can cause them to break down. Refurbishing a laptop will remove all built-up dust and debris, making it run like new again.
Be aware that refurbished laptops may not be the best choice for you if you use your laptop for extremely demanding tasks, such as gaming or editing movies. However, refurbished laptops are great choices for everyday use, which is why they are often recommended both by reviewers and buyers.
What should I look for when picking out refurbished laptops?
When looking to buy a refurbished laptop, it's important to consider its age and the original price of the device you're buying it for. For example, most manufacturers will offer refurbished laptops for sale that were manufactured at least six months ago. However, some manufacturers and online retailers may sell refurbished laptops that are over a year old for around ten percent of the original price of the laptop.
When buying a refurbished laptop from an unknown manufacturer or from someone on Craigslist, it's important to keep in mind that you may not get as much of a warranty as you would if you purchased from a well-known online retailer. For those reasons, it's often wise to stick with models that have been manufactured by a company that specializes in laptops – names like Dell or HP should be your first clue.
When buying refurbished laptops from well-known manufacturers, you'll typically have a warranty that is slightly shorter than the one included with a brand new laptop. However, refurbished laptops still come with a standard 30 day warranty and may also include an extended warranty for up to six months to a year.
When buying refurbished laptops from small retailers or individuals, you should be aware of their return policy and what happens if something goes wrong with your laptop during this return policy timeframe. In these cases, it's best to stick with a manufacturer that you trust and have heard good things about before making your purchase.
There are many retailers from which you can buy refurbished laptops, but the most popular places to shop for them on-line include eBay and Amazon.com. Some of the most popular brands for refurbished laptops include Apple, HP, Dell, Sony and Toshiba.
Are refurbished laptops slower?
You might have heard that refurbished laptops are slower than new ones. People think this is because the work of refurbishing the laptop causes it to slow down, but this isn't true.
A refurbished laptop is essentially a used one that has been fixed or repaired after being sent back by whoever tried to use it first. It's restored to its original condition. It's possible that things might be added or removed, however, these changes are usually the same as if the laptop weren't refurbished.
There are no physical reasons why a refurbished laptop should be slower than a new one. It was tested before being sent back, so all of the problems have been fixed, and it should be as fast or faster than a new laptop.
Some refurbished laptops may not have the latest components. For example, if you bought a refurbished laptop five years ago and just tested it to see if it works again now that you want to use it, then the battery might be an old one that has lost a lot of its capacity. The refurbisher should have checked this out, but it's still possible that they missed something, and it might be a good idea to replace the battery.
Generally, however, there is no reason why a refurbished laptop can't work as well as one that hasn't been used before. Just because something has been used doesn't mean it's bad, and whether it's refurbished or not doesn't change that.
Are refurbished laptops slower? No, they are essentially the same as a new laptop except for a few exceptions listed in the article. People who say that they are slower typically have old batteries or other components that could be replaced for better performance. Refurbished laptops are tested before being sent back so there is no reason why they should be slower than new ones.