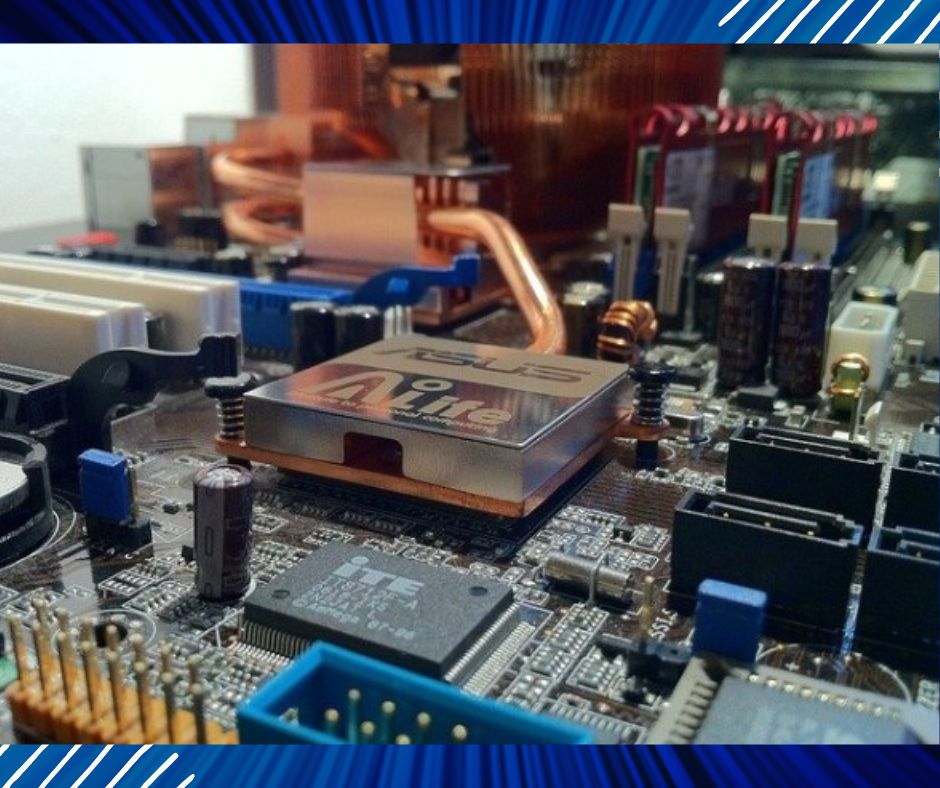 Whether you're a pro or a beginner, anyone who wants to build their own computer needs a motherboard . Because all the individual components of the computer are plugged into it so that they can work together and the PC ultimately works. But what do you actually have to consider when buying a motherboard? Read on and let us explain!
What is the motherboard anyway?
Each component in the PC has its own task: the processor carries out arithmetic operations, the main memory is the machine's short-term memory, the fan keeps everything cool and the power supply unit supplies the action with power. Anything that ultimately needs to join this electronic party has to be connected to the motherboard. Because the data streams of the individual components are connected on it and distributed in such a way that everything gets where it is supposed to go.
But that also means that your choice of this PC element must be well thought out – after all, not every component fits on every motherboard. So before you buy the individual components, you should pay attention to their compatibility and then decide. To make this process easier for you, we explain the most important criteria to which you should attach importance.
connectors on your motherboard
As already mentioned, each module is connected to the motherboard. But on the one hand not every component is essential and on the other hand there are many options for the respective parts . In the following section we present the most important ones. Then you can choose your mainboard according to your personal needs and requirements.
Spoiled for choice: processor sockets and chipsets
In your computer, the processor is the central processing unit. It is plugged in through a socket on the motherboard. But this connection point differs according to the manufacturer – AMD and Intel – as well as the generation of the respective CPU. So before you choose your motherboard, you have to decide which processor you want to put in your PC so that the product you want can be installed on it.
Depending on the manufacturer, the various generations differ in terms of performance and price. This means that you can choose your product exactly according to your requirements and circumstances. So: Check how much computing power you need, i.e. how much you will use your PC, and then look for a processor and then your mainboard. Keep in mind that your motherboard's chipset is always associated with the CPU socket. This means that you first choose your desired processor and then look for a suitable mainboard with a suitable chipset.
The chipsets are the brains of the computer . This is responsible for controlling the individual components. Today the set of every motherboard on the market is sufficient for the daily operation of a computer. However, if you expect high performance, you can still look for high-end motherboards and experience their speed. Because the better the chipset, the higher the computing power. Incidentally, your chipset also decides how many and which connections your PC has – but more on that later.
Related Article: Best X399 Motherboard for Ryzen Threadripper 2(2950X and 2990WX)
The right RAM for your motherboard
RAM is the computer's short-term memory. It is claimed when you use many or computationally intensive programs . This primarily includes video editing and games. The more memory is installed in the PC, the fewer problems you will have even with high loads. Like any other component, it must be plugged into the motherboard and therefore be compatible with it.
However, a motherboard only supports a certain generation and size of RAM and has a fixed number of slots – either two or four. So if you want to build in 8 GB of memory, you could build in either four times 2 GB or two times 4 GB, if your motherboard allows it. Before you buy a motherboard, be sure to check how many slots your motherboard has, how much RAM it allows and which generation it supports.
Sound and graphics cards for media connoisseurs
Your motherboard already takes care of the sound and graphics on your computer. That wasn't the case before, but now all models have built-in sound and graphics chips that take care of it. That means: If you have low requirements, i.e. if you only play music and videos with your PC from time to time and do not expect ultra-high quality, this chapter is already ticked off for you.
But if you want to hear or record excellent sound, a sound card makes sense. For image and video editing as well as demanding computer games such as Doom Eternal, The Witcher 3 or Battlefield 5, you usually need a video card. You have to make sure that your target graphics card model fits your mainboard. Because sometimes the motherboard isn't big enough for the card, sometimes it doesn't have the correct PCIe connectors, and sometimes it just doesn't provide enough power. However, as long as you observe these three points, nothing should stand in the way of your high-quality pleasure.
More connectors on the motherboard
So that what is happening inside the computer does not get too hot, coolers have to be attached. They are usually located on the CPU, sometimes also on the GPU and must therefore also match your motherboard and the connected components. That said: Go by the processor model when looking for a cooling system.
Storage space is also attached to the mainboard. Here you have the choice between SSD and HDD . The HDD hard drive is slower but gives you more storage for less money. A solid state drive is faster. However, this has less GB and usually costs more. You can connect them via SATA cables or any M.2 slots on your motherboard.
Depending on the motherboard, there are also different connections for external devices such as monitors, keyboards and others. For screens, your board should have HDMI and DisplayPorts. You can usually connect other peripherals via USB or even Thunderbolt. For some microphones and headphones, however, you have to make sure that the circuit board has micro jack connections. So that you also know where each component is plugged into the mainboard, we break down the designations of the individual slots in a table:
| | | |
| --- | --- | --- |
| designation | connection | |
| PCIE | Connections via PCI Express cables such as GPU, network card, SCSI cards, etc. | |
| CPU_FAN, CHA_FAN | Connection of processor and case ventilation | |
| EATXPWR/ATXPWR | Connection of the power supply | |
| SATA | connection of the hard disks | |
| USB headers | USB connections | |
| CLRTC | "Clear time clock": If both ports are jumpered, date, time, and system passwords are reset | |
| AAFP | Audio connections on the outside of the housing | |
| SPEAKER | Speakers on the case for system tones and warnings | |
| F_PANEL (PWR_LED, PWR_BTN, HDD_LED, RESET) | For functions on the case such as the power/reset button and associated LEDs as well as hard disk LEDs that display the on/off status | |
What makes a gaming motherboard better?
Are you now wondering what the difference is between an office motherboard and a high-performance or gaming motherboard? This is actually quite simple. Gaming motherboards are technically optimized . On the one hand, they offer you more connections than conventional models. On the other hand, they let you experience higher quality in general.
Related Article: Best Motherboard for i3 8100
This is done with better sound chips that give you an excellent audio experience and higher quality cables for more power to the CPU, RAM and GPU. In addition, you get a more effective cooling system here, as gaming PCs are usually used more and therefore produce more heat.
You have to pay attention to this when installing the motherboard
When you have decided on a model and the associated components, it is time: everything is unpacked, connected, and installed. But beware! The motherboard was sent to you wrapped in anti-static wrap for a reason. Static electricity will damage the motherboard. Therefore, during the process, you should place the circuit board on the foil for safety before it is finally screwed into its housing.
When installing it yourself, you can follow the instructions on the main board. This means: Connect the individual components to the mainboard in the correct order using suitable cables and in the correct slots. You may sometimes have to unplug individual components again so that no cables are in your way. And there you have it, your very own customized computer!