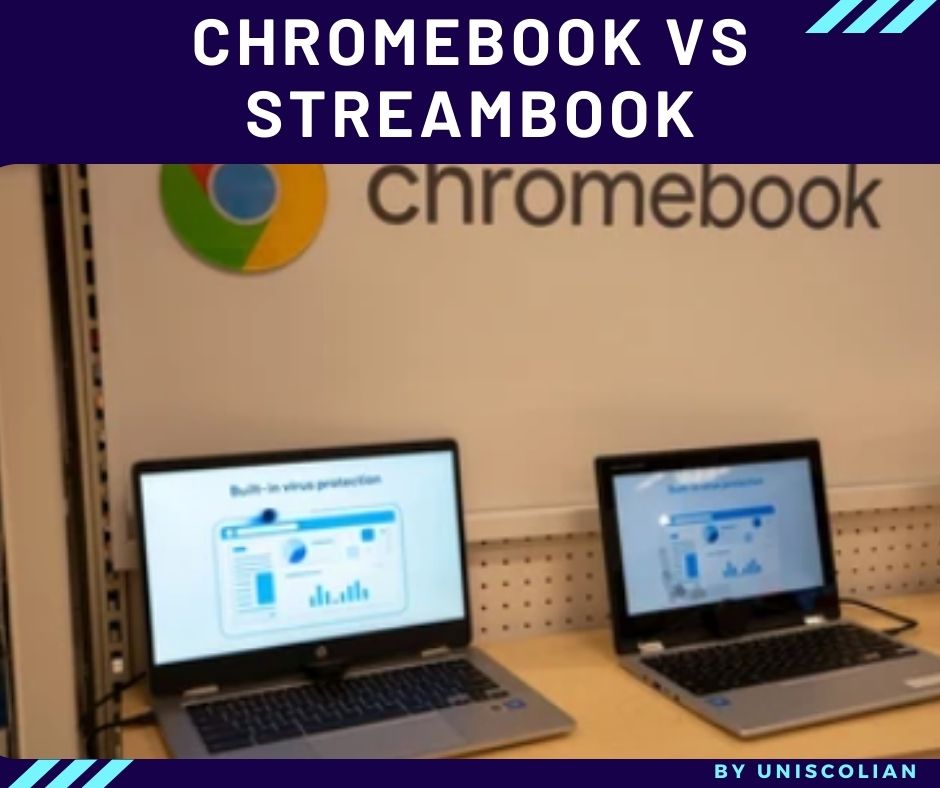 Chromebooks and Streambooks are two choices for people looking to get an inexpensive computer that can do a lot.
Both have a surprisingly good array of features, excellent build quality and classy designs, which is why it is hard to choose between them.
There are many things that can influence our buying decision such as design, construction, specifications, display, or storage. When it comes to choosing between the two notebooks Chromebook and Streambook there are different aspects that should be taken into account.
The first thing you need to know is that Chromebook doesn't run on Windows OS like the Streambook does, but Chrome OS instead which is an operating system based on Linux kernel. It uses the Google Chrome web browser on different applications so you can chat, write documents or surf on it.
This article will look at how they compare in design, specs, OS, and performance if you are planning to buy one of these for your business or personal needs.
Let's start off by comparing the design and build quality of both Chromebooks and Stream books. Chromebooks are made up of plastic while stream books have aluminum surfaces on the outside, making them look more classy than chrome books. This makes them look like proper laptops that can rival the MacBook Air in terms of looks.
On the other hand, Chromebooks have a small design making them light and compact to carry around. It is also slimmer than most laptops with a smooth finish which will make your friends want to know what you are using.
The Streambooks, on the other hand, have a bulkier design and they weigh a little more than most laptops.
They both have different screens with Streambooks having a higher resolution at 1920×1080 compared to Chromebooks at 1280×800. They both use LCD touch screens which are easy to read under direct sunlight and can be easily viewed from any angle, but the problem is that they do not come with a back-lit keyboard, which is not ideal for using them in low lighting conditions.
The Streambooks come preinstalled with Windows 10 home edition while most Chromebooks only have the Chrome OS as their operating system.
To sum it up, Streambooks look more classy and suit businesses better than private users. On the other hand, Chromebooks look and feel compact and can be carried around easily which is perfect for those who move between different places on a daily basis.
They both have HD quality cameras but Chromebooks' camera doesn't face forward like stream books to make video calls, it's placed at the inner corner which makes taking selfies difficult.
Both Streambooks and Chromebooks have 64GB of internal storage with an option to expand it further through either USB 2.0 or 3.0 ports for the Streambooks but only with the help of an SD card for Chromebooks which are not as easy to use. However, both do not have a hard drive and hence you cannot install extra software onto them or save your personal files on them.
You can choose to buy either Chromebooks or stream books for your daily tasks as they both run smoothly and quickly. They both have identical specs with an Intel Celeron N4000 Processor 4GB RAM and 64GB SSD storage that is expandable up to 128GB through the use of SD cards for Chromebooks and external hard drives for Streambooks.
They both have a battery backup of 8 to 9 hours with similar usage, which could be more or less depending on how you use it and the type of content that is being played by you.
Streambook can last for up to 9 hours of web surfing thanks to its 2 cell Li-ion battery that powers the system. The Chromebook can outlast Streambook when it comes to running time, but you'll have to recharge it every 5 hours because there's no removable battery.
StreamBook has a significant advantage over Chromebooks when we talk about the ports and slots because it offers two USB 2.0 ports, a headphone jack, and an HDMI port for connectivity options. The Chromebook only has one USB 3.0 slot, a headphone jack, and an SD card slot for expandable storage which is not as effective as having two USB ports. Both of these notebooks come without DVD drives, but Chromebook is lighter than the Streambook by 9.7 ounces (275 grams).
So even though both have similar specifications they cater to different types of users with Streambooks being better suited to those who have a lot of personal files and work on them, while Chromebooks are perfect for those who move from one place to another require a laptop which weighs less.
Both Streambooks and Chromebooks have similar performance when it comes to browsing the web or opening multiple tabs at once but stream books run faster than Chromebooks because chrome OS is not as effective as Windows 10 for running multiple tasks at once.
The Streambook offers more storage space and longer battery life, but it gets a bit slow when you try doing more than just surfing the web.
Comparing stream books and Chromebooks would not be complete if we do not talk about the price. Chromebooks start at about $200 and go up to $ 500, while Streambooks range from $250 to $500.
The Chromebook is built for people who like simplicity and portability whereas stream books offer more power and storage space along with Windows OS.
Chromebooks are better if you use the laptop for basic operations like watching videos, listening to music, or browsing through websites and all that stuff which does not require much storage space whereas Streambooks are more suited for those who have a lot of files that take up a considerable amount of memory.
Chromebook is a bit slow and cannot run some more advanced tasks, but it's good for schoolwork or web browsing.
Streambook is a much more capable device, it also offers good performance for common tasks like sending an email or updating your Facebook status. You can even do some word processing with it because of the 4 GB RAM that's onboard.
So even though both laptops have similar specifications they cater to different kinds of use cases. Chromebooks are better if you use the laptop for basic operations like watching videos, listening to music, or browsing through websites and all that stuff which does not require much storage space whereas Streambooks are more suited for those who have a lot of files that take up a considerable amount of memory.
Related Article: How to fix rainbow screen on a laptop? Causes of rainbow lines & screen damage
What is a Chromebook? What are Chromebooks good for?
A Chromebook is a laptop that runs the Google Chrome OS, which consists of the Chrome web browser and a few related programs. There are a couple of ways to run a web browser on a computer: one way is to install the web browser as an application on another computer operating system such as Windows or Mac OS X. Another way is to run the web browser as an operating system so that it boots up along with the computer's regular operating system. A Chromebook does this—it runs a complete web browser-based operating system.
Chromebooks are designed to be used primarily while connected to the Internet, with most applications and data living in the cloud. As a result, Chromebooks are easy to set up and maintain. Since everything is web-based, most of the software updates happen automatically in the background when it's convenient for you. When new versions of apps or the operating system become available, they download in the background and install themselves on shut down.
You can also conduct some computing tasks offline if you want. For example, Google Docs (a suite of web-based productivity applications) has offline modes in which you can create and edit documents while not connected to the Internet; when you go back online, these same documents will automatically sync with your online Drive file storage area.
Most Chromebooks include built-in wireless networking cards that make it easy to connect to any available wireless network. It's also common for Chromebooks to include a full-size HDMI port that you can use with an external display monitor, speakers, or other peripherals.
Since they're web-based computers, Chromebooks don't need much disk space; in fact the operating system itself takes up only about 2 GB of disk space. The rest of the storage is provided by Google Drive, which you can use for online file storage or backups.
Google offers affordable plans with significant amounts of storage to all users. When you sign up for a Google account, you automatically get 15 GB free, which is enough to store hundreds of thousands of documents and media files.
Google Drive also comes with some other nice features such as version history and the ability to create new documents while not connected to the Internet.
What can you do on a Chromebook?
Because they run on Chrome OS, Chromebooks are primarily designed for web-based computing tasks: publishing and consuming web content (surfing, email, YouTube videos, Facebook, Netflix, etc.), sharing and collaborating on Google Docs documents, creating new documents based in Google Drive cloud storage or on Google+ (which offers unlimited photo storage), playing games online through sites like Newgrounds.com, and so forth.
"Don't forget about image editing!" you say? Well… it is possible to edit photos and other media on a Chromebook by saving your files in Google Drive and editing them with the web-based tools found in Google's online suite of productivity applications.
But honestly, if you're serious about the photo or video editing we highly recommend buying a laptop that is specifically designed for such tasks. The Chrome OS was not designed for image editing, so this would be like buying an iPhone to replace your home entertainment system.
It's also possible to run some applications not designed for web browsers. For example, you can install the Steam client on a Chromebook and play many popular PC games. You can also use video game emulators to install classic consoles such as NES, SNES, Genesis, etc. to play thousands of classic video games.
Just be aware that the processing power in most Chromebooks isn't up to snuff for intensive 3D gaming or high-definition video encoding and so forth. If you need such things, we highly recommend buying a true Windows laptop instead—such laptops offer much better performance for the money.
In general, Chromebooks are designed to be used with the Internet and not much else. As a result, many of the built-in apps that come with most Chromebooks are web-based utilities such as Google Docs, Sheets, Slides, Photos, Gmail, Maps, Calendar, Drive, Hangouts, Keep, and Play Music.
There are some productivity applications on Chromebooks—such as a word processor, a spreadsheet app, and presentations software. These apps connect to online storage areas such as Google Drive where you can store your files and access them from any computer or mobile device. You can also share these documents with others via Gmail attachments.
Some people have a misconception about Chromebooks being "limited" because they can't install standard desktop applications. This is not true! While it's true that you won't be able to install Microsoft Office or other similar productivity software, you can use web-based equivalents such as Google Docs, Sheets, Slides, and Keep.
In fact, the Chrome Web Store has a plethora of web-based applications you can use on a Chromebook to replace traditional desktop applications. For example, if you want to play the music you can install the Chrome version of iTunes instead. If you want to watch videos, there's also a Chrome version of Netflix. So no matter what your favorite online application is, there's probably a Chrome version that you can use on your Chromebook!
Some of these web apps are limited in functionality when compared to the full-featured desktop applications they replace, but depending on what you need to do, you might find them to be good enough. We recommend trying them out before making any decisions about whether or not Chromebooks are right for you.
In addition to all of the web-based apps that come with a Chromebook, Google Play is available on most models—and it lets you download applications designed for Android smartphones and tablets. Many popular games and apps are available in the Chrome Web Store's Android section, so if you have a compatible Chromebook you should definitely take a look to see which apps you can download and use.
Related Article: How to Know if the Laptop is Refurbished?
What does HP Stream mean? Why Streambooks? What do they mean? Why are they important?
There has been a lot of hype and excitement around HP's CES announcement of their new Stream laptop. Unfortunately, there hasn't been enough clarification on what the device is good for.
HP calls it "the first affordable laptop built for the Google generation," but I'll be honest: who isn't an active user of Google? That certainly doesn't make the device "new"; it's also not necessarily very affordable. Is HP trying to claim that there are no other laptops on the market for this user set?
I think Streambooks are good for far more than what HP is willing to admit, and I'm going to explain why.
In short, HP is sort of trying to carve out a new market with the Stream series of laptops by marketing them as being "for" young people. They're trying to send a message that these devices are "streamlined" and made for those who live in the cloud. Unfortunately, I'm not sure how accurate this claim really is.
Google has been out for a while now, so why would HP use that as the selling point for a new laptop? There's nothing particularly exciting about HP's claim that the laptops are "for the Google generation." The Chromebook Pixel is already out, and it doesn't actually work very well.
If you're using the Internet to do your homework or write papers, then this product might be helpful to you in some way. If you're planning to use the laptop heavily for multimedia streaming, then this might be a solid option. But if you're trying to do heavy-duty work or play games, then the Stream isn't going to perform very well at all. If you simply need a device that can surf the web and have fun with some casual apps, then you should probably save some money and go with a Chromebook.
They don't make the most sense as only an entry-level laptop, but if you need something that can do what you want it to at a low price, then they might be worth considering.
For those of us who are beyond Google Docs and prefer Microsoft Office for writing papers, this laptop just isn't going to do the job. Even if you're not a regular Microsoft Office user, there are still plenty of other things that you might be missing out on with the Stream.
Google Docs is easy to use, so it doesn't take any previous experience with word processing software to pick up the basics. If you have experience with Microsoft Office, then the Stream probably won't be very helpful.
The HP Stream series of laptops is an interesting idea, but they lack some really great features that would make them worthwhile to most people. As it stands right now, there's nothing special about these devices; if you can get past some of their more basic drawbacks, however, then they may be a good choice.
By now, most people are seeing that the HP Stream isn't nearly as good of a laptop as initially advertised. However, if you're looking for something to do some quick work on or play around with apps and games, then it might be worth considering after all.
What are the disadvantages of a Chromebook?
A Chromebook is a laptop that runs the Chrome Operating System, which is basically just an internet browser. Chromebooks are normally significantly cheaper than most laptops. However, they have several disadvantages as well.
Chromebooks are not compatible with many different types of software, so if you use any obscure programs or games beyond web browsers, you will need to find an alternative or choose a different computer.
They also often run slower than most laptops, which is why Chromebooks are usually cheaper, because of the fact that they cannot be modified like other computers.
For these reasons and more, the disadvantages of owning a Chromebook outweigh the benefits for many people.
If you don't think any of these disadvantages apply to you, then feel free to get a Chromebook. However, if any of the cons listed above are important to you, then it would be wise for you to consider other types of laptops.
Can you download Windows on a Chromebook?
No, you can't. The Google Chrome OS is not compatible with Microsoft Windows systems. If you want to run Windows applications through the cloud, then use CloudReady by Neverware.
Why do schools use Chromebooks instead of laptops?
The answer to this question can be attributed to the fact that Chromebooks are relatively inexpensive compared to other laptop models, and the simplicity of Chrome OS. This allows for increased performance in sectors including education. A final reason for its popularity is because it provides an easy transition from online learning to online assessments.
For example, Chromebooks allow for simple integration with Google Classroom, which provides an easy way to turn in assignments and tests. Despite the use of Chrome OS across many age groups, Chromebooks are especially useful for students because they're generally inexpensive — an important factor for educators who must provide computing devices for their entire classroom. Chromebooks also allow for students to transition easily from online learning to online assessments, as many of the same apps and utilities can be used. Parents may purchase through an education plan that provides a discount on the device, or schools themselves may choose to use those funds towards purchasing more Chromebooks than laptops.
Although school districts are beginning to use Chrome devices for more than just basic assignments, Chromebooks are still on top. They allow teachers to access the internet and begin creating documents as well as edit and present PowerPoint slides. Chromebooks also allow students to store files in Google Drive, making them accessible from anywhere with an internet connection.
Chromebooks provide a reliable platform that can be easily managed and secured. Chrome devices provide an easy way to lock down features like access to apps, extensions, and the Google Play Store. As mentioned above, Chromebooks are also ideal for school systems looking to convert from traditional learning management systems (LMS) or other alternative methods of teaching online because the transition is seamless.
Google Classroom allows teachers to more efficiently distribute assignments and tests and can be accessed from any device with an internet connection. Enabling offline mode allows for work to continue while a student lacks access to the internet.
There are many reasons why schools use Chromebooks instead of laptops: they're cheap, compatible with Google Classroom, and allow for easy transitioning from online to offline learning. Despite their increasing use across the United States, they're still popular for students because many of the same apps and utilities can be used online or offline.