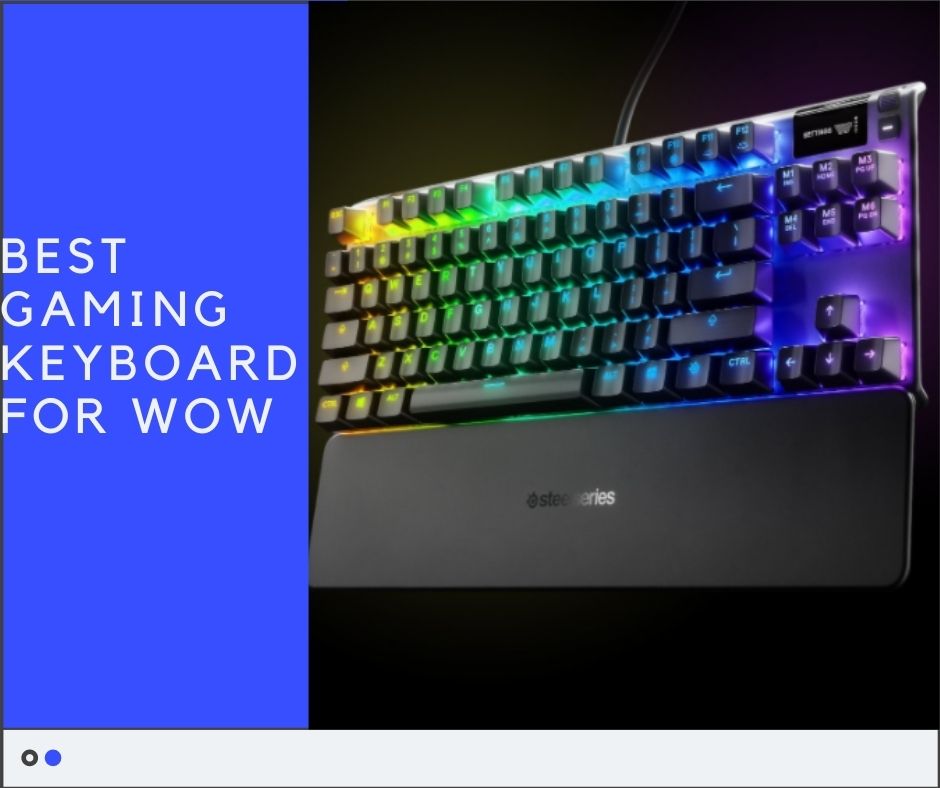 WOW stands for World of Warcraft which is a popular MMORPG (Massively Multiplayer Online Role-Playing Game) and has been everybody's favorite for the last 16 years. Developed and published by Blizzard Entertainment. On their 16th anniversary on 23rd November 2020, they released the eighth expansion pack of this famous game named "World of Warcraft: Shadowlands". Because of this new expansion many of the old players are returning back to WoW and looking for a perfect keyboard to play the game.
World of Warcraft: Shadowlands doesn't only differentiate between life and death rather it differentiate between what this game was and what could be for this 16-year-old WOW. This new expansion fascinates us with lots of familiar characters such as Thrall, Jaina Proudmoore, and many others. It also opens the doors towards new corners of the World of Warcraft universe. Introduces to the intimidating jailer a bad guy who didn't originate in the RTS games. His arrival opens a whole new chapter of the game. New zones are also bizarre, distinct, and wonderful. Game activities have never been this diverse and interesting before.
Keyboards play a very significant role while playing WOW. Playing with the key binds that you are comfortable with and can access frequently is one of the supreme factors to be successful in WOW. You can use "Shift" to double your key binds and manage your movement keys efficiently. Sinister strikes, mortar strikes, fire blast, frost bolt, cast abilities like Hunter's mark, blink, cheap shot, gouge, and many other spells and abilities require proper use of key binds. There are several types of keyboards available but a mechanical keyboard will help you greatly with accessing the key binds. You can play WoW with any sort of regular keyboard. Here are our suggestions for the best keyboard for WOW Shadowland. These keyboards are not essential to play WOW rather they are very smooth and popular among gamers. We recommend you choose a keyboard according to your taste and preference.
Razer Huntsman Tournament Edition
4.7 out of 5 & 8,992 global ratings at Amazon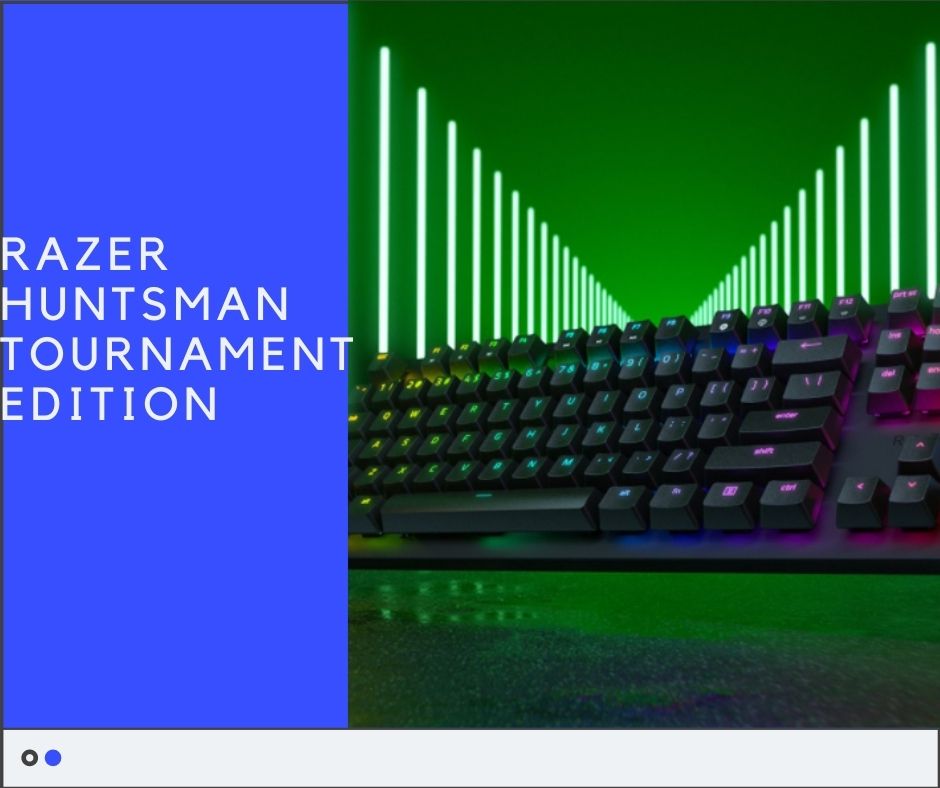 Razer Huntsman Tournament Edition (TE in short) is an excellent mechanical gaming keyboard. Optomechanical switches are used in this keyboard from Razer. The keys are very responsive and provide very smooth gaming and typing experience. Also available is RGB backlighting. Razer's Synapse 3 software can be used to customize the backlighting. Premium choice for mechanical lover WOW shadowland players.
The tournament edition mainly refers to the TKL ( ten key less ) layout. There are lots of features as well as optical switches in this Razer Huntsman keyboard. One of the most interesting factors is the simplicity of this gaming keyboard. Unlike traditional Razer gaming keyboards, this model is very simple looking which is very much of an improvement from Razer. The font is also very simple, Razer didn't use the traditional aggressive gaming font.
The keyboard is very lightweight because of the premium quality plastic built. Keycaps are made of PBT which is better than ABS keycaps, the finishing on the top of the keycaps has a very nice texture. The backside of the keyboard contains two separate degrees of elevation, one is 6 degrees and the other is 9 degrees in order to set up according to your comfort. The cable along with the keyboard is removable and USB type C. Optomechanical switches are used in all the Razer Huntsman keyboards, this tournament edition contains linear red switches.
They are faster and lighter than other optomechanical switches. The switches respond in the slightest press of 1 millimeter. This may cause unintended keystrokes or registers. These linear red switches are a bit louder than the traditional red switches. There are 5 profiles of RGB lighting effects stored on the keyboard itself. You need to have Razer's Synapse software to use the 5 onboard storage. You can set up different RGB light effects using Synapse and the colors are very bright, vibrant, smooth, and premium looking. The stabilizers of the keycaps have a bit of room for improvement. So our WOW gamers can't really complain about price according to the tremendous features they are getting.
SteelSeries Apex 7 TKL
4.8 out of 5 & 7,177 global ratings at Amazon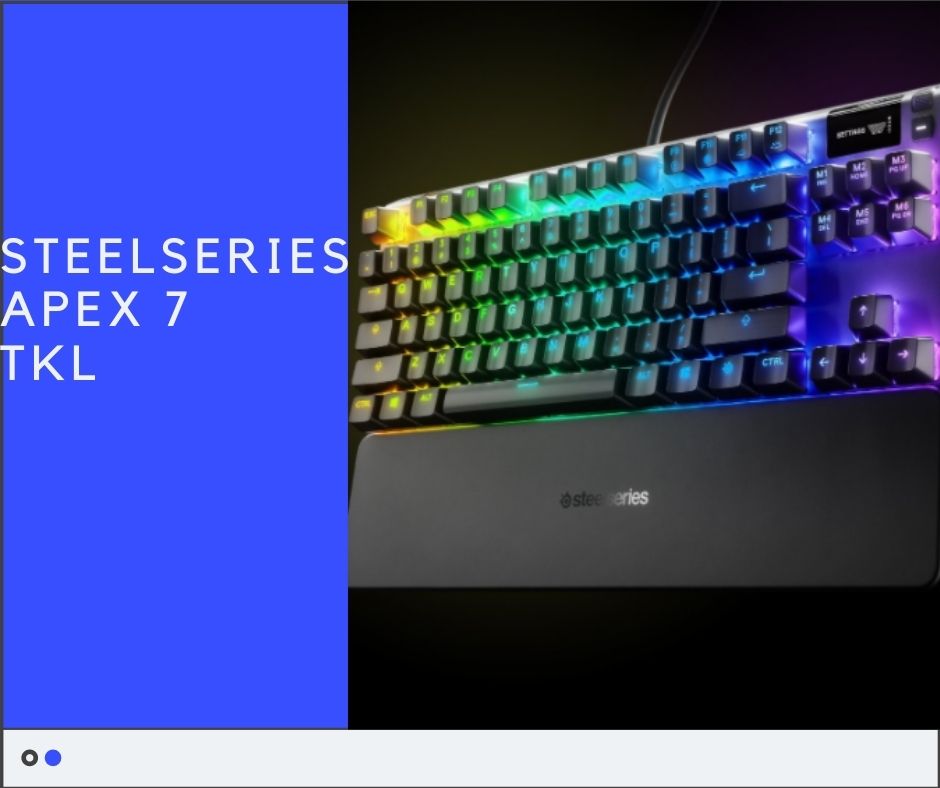 Apex 7 is a premium quality mechanical gaming keyboard from the famous brand SteelSeries. This model is a TKL (ten key less) version which means reduced width of the keyboard by removing the 10 digit number pad also with red linear and quiet switches. Blue tactile and clicky, brown tactile and quiet switches, and non tkl versions are also available from Amazon. Another outstanding feature that comes with this mechanical keyboard is the OLED display at the right upper corner.
This exclusive keyboard for WOW players contains a floating key design with a plastic base and an aircraft aluminum alloy base plate. A relatively lightweight keyboard and the rubber feet at the bottom of the keyboard help it sit perfectly on the desk. Provided a wrist rest along with the Apex 7 which is made of plastic with a soft rubber built top. This comfortable wrist rest is connected magnetically with the keyboard which is pretty amazing. The wrist rest is not super strong but it will be in position while gaming or typing.
The backside of the keyboard contains really cool cable channels to determine where the cable exits. The cable along with the keyboard has two USB plugs. So you need to make sure you have a sufficient amount of USB ports. Media keys are also included on the right side of the Apex 7 keyboard. The keyboard contains branded SteelSeries Cherry MX red tactile switches which is very much appreciated by the WOW gamers. SteelSeries Apex 7 is also an RGB gaming keyboard. The RGB colors of the keyboard are completely customizable via the SteelSeries Engine 3 software.
You can also customize the media keys, individual key colors and also configure other keys according to your preference through the software. You can also customize the OLED panel from the software. You can't do much with the OLED from the software. You can upload images in black and white, using the button connected to the OLED you can access some of the settings of the keyboard. The OLED display doesn't do enough to be really useful. Overall a premium mechanical keyboard according to the price is recommended for WOW players.
Corsair K95 RGB Platinum
4.6 out of 5 & 4,247 global ratings at Amazon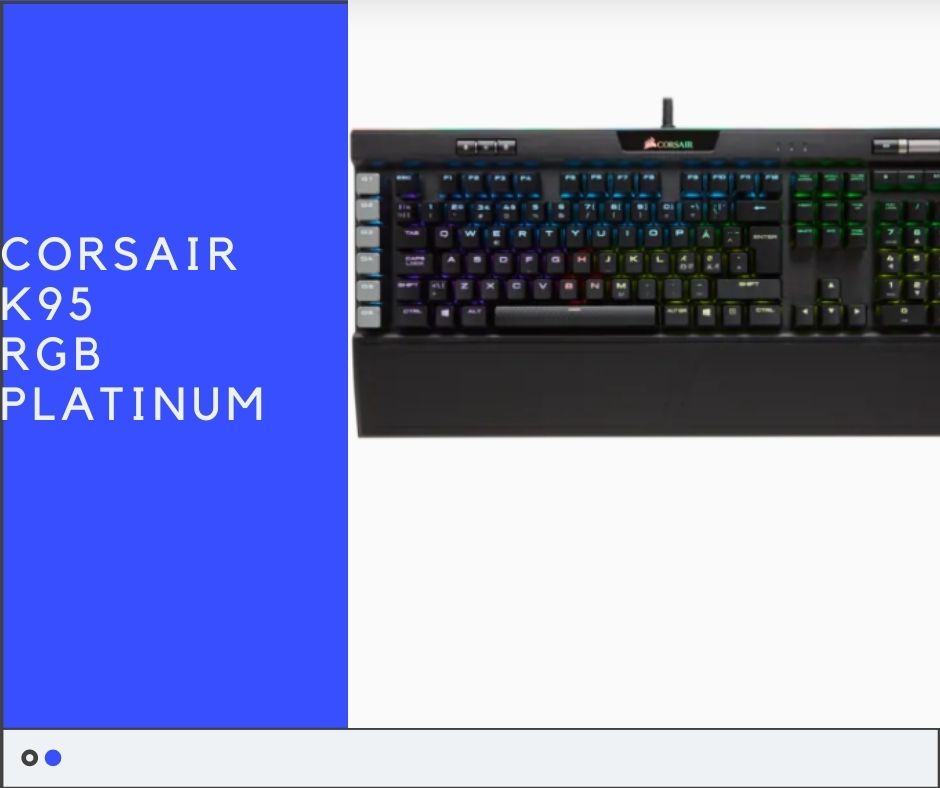 Corsair K95 is the most expensive mechanical gaming keyboard on our list. Those high-budget WOW shadowland players, who are very much enthusiastic about high-priced mechanical keyboards are recommended to buy this less than 200 bucks Corsair K95. There are very few gamers who haven't actually heard about this keyboard. It has been the best since 2017. Even in 2021 Corsair K95 is a top choice for many in the gaming community. Cherry speed switches, 6 additional G keys, RGB lighting, detachable wrist rest are some of the cool features which make it perfect for our WOW players.
K95 Platinum has a brushed aluminum finish which provides a professional finish. Because of the aluminum finish, K95 looks very nice but it attracts dust and requires frequent cleaning. 6 macro keys are given on the left side of the keyboard. The macro keys are highlighted with gray texture keycaps. You may program the macro keys to the function you prefer the most. Macro keys are very much helpful for the WOW players. On the top left of the keyboard, we have a profile switching button, a Redragon K552brightness key, and a windows lock button. In the top right section of the keyboard, there are media keys, a volume wheel that is very large and smooth to use.
On the top of the keyboard, there is a USB pass-through that can be used for a mouse, headset, or flash drive. Due to the USB passing through the keyboard is containing two USB cables. There is also a light bar that runs around the backside of the keyboard also connected to the RGB lights. There is a cross-section under the keyboard for cable management. You can route your headset or other cables from the bottom of the keyboard for better peripheral cable management. There is a dual layers detachable wrist rest provided with the keyboard. The rubber part is very smooth and comfortable for your wrist and also a magnet so you can also take it off if you want.
The K95 Platinum keyboard uses the Cherry speed switches. The switches actuate at only 1.2-millimeter keypress which is very quick. The switches are faster than average mechanical switches. Razer Huntsman actuates at 1 millimeter which makes it faster and also comparatively very cheap. K95 switches are relatively quite similar to the brown switches. There are three lighting effects pre-saved on the keyboard which can be accessed through the profile switching buttons on the top of the keyboard without the software. Corsair Q2 software can be used to customize the RGB lighting effects. You can also set the macro keys using the software. Overall a very legit and solid keyboard from Corsair is the best choice for WOW players.
Redragon K552
4.4 out of 5 & 19,074 global ratings at Amazon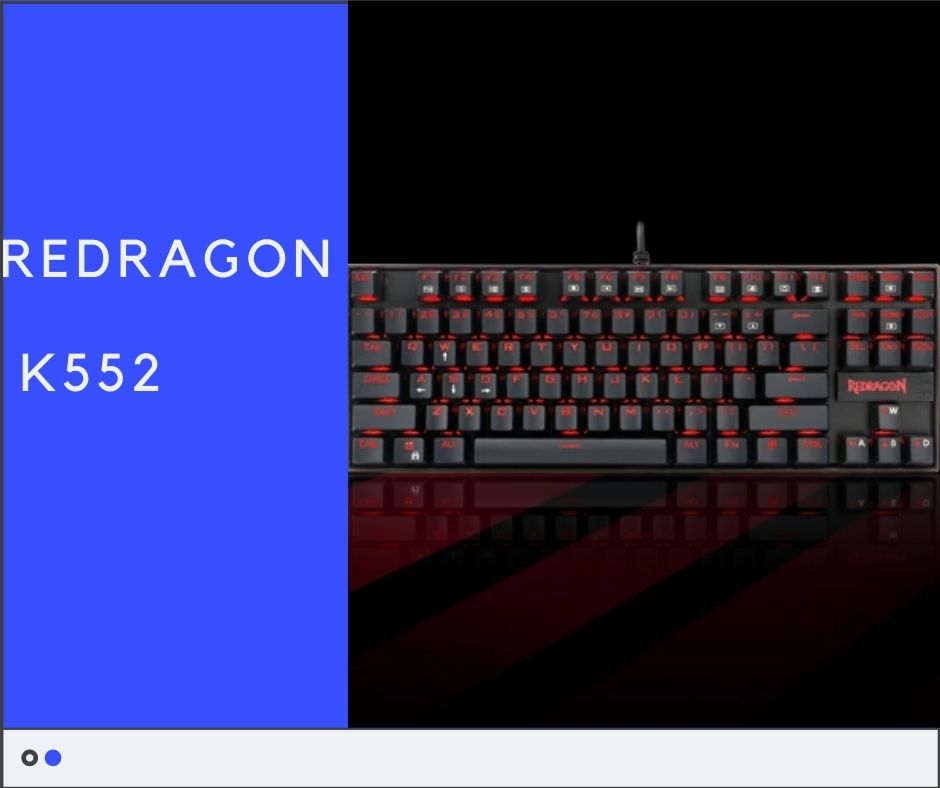 K552 is a glossy-looking mechanical keyboard from Reddragon which is also the bestselling mechanical keyboard on Amazon. You can see the huge number of reviews and it's growing exponentially day by day. Many gamers have trusted this cheap mechanical keyboard which makes it the best keyboard to play WOW shadowland.
Redragon K552 is quite heavy and durable build quality because it is made of metal alloy and abs plastic. Also, provide a key caps taking off tool along with the box. The USB with K552 is gold plated and the wire also looks very premium. As we all know that Cherry MX is the best mechanical keyboard switch available in the market. Redragon k552 mechanical keyboard uses Cherry MX red equivalent switches not exactly the real Cherry MX but according to the cheap price, these switches are very amazing quality. The keycaps are very clicky and tactile so it's not a good idea to use them at the office but in your room, it's perfectly fine if you love the sound of clicky keyboards. I personally find them very appealing.
The keycaps have a significant amount of grip so it is super smooth to use. K552 is also an RGB gaming keyboard. RGB is a very important aspect of mechanical gaming keyboards. K552 has tons of different color modes and individual key lighting features. You can easily customize the color of the keyboard or map out your keys for colors according to your professional work. Redragon K552 gaming keyboard is also spill proof. All of the 87 keys are anti-ghosting which is very essential for WOW shadowland players. While gaming when you press a lot of keys at the same time surely all of them will actuate in your PC.
Related Article: Best Horse Games for Xbox
Corsair K55 RGB
4.7 out of 5 & 7,164 global ratings at Amazon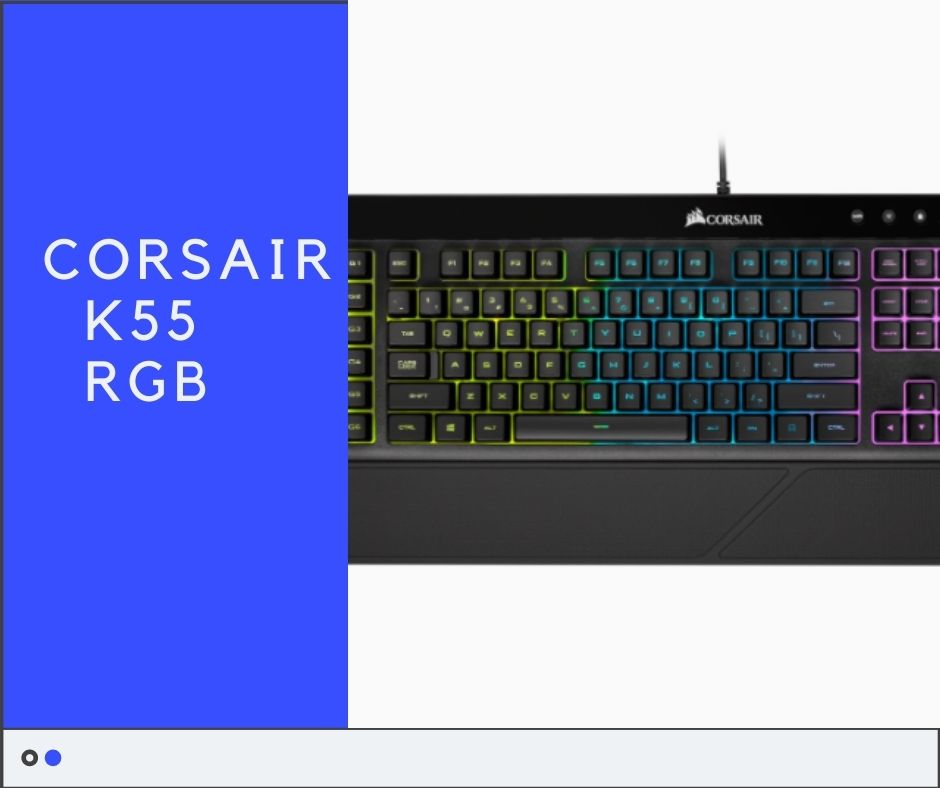 Corsair is a renowned name in the world of premium quality mechanical gaming keyboards. Corsair K55 is a budget killer gaming keyboard for WOW players. Not being a mechanical keyboard doesn't affect a bit on its super amazing performance. K55 is not only the cheapest gaming keyboard on the list but also the best quality on budget. The reason behind its under $50 price is that instead of using mechanical switches corsair used membrane switches.
Corsair K55 offers tons of awesome features only for below 50 bucks. This keyboard is very much suitable for those who wish to get into the pc gaming community or those who are not willing to spend much for a quality gaming keyboard. On the left side there are 6 dedicated macro keys which is very rare for a keyboard at this price range also makes it very suitable for the WOW shadowland players.
You can set certain functions or keys on these macros, they are also helpful for mobile players, video and photo editors. There is a macro record button on the top so you can easily configure the macro keys without the help of any software. Dedicated media keys on the top right-hand side of the keyboard. Some features from the inside of the keyboard are anti-ghosting and a key rollover. Also included detachable wrist rest which can be placed swiftly at the bottom of the keyboard but not it's not magnetic.
Membrane switches are not the best but according to the price range, you can't complain. RGB lights are also embedded inside the membrane switches and they shine through the white surface underneath all the keys. The RGB colors are very saturated and bright. No software is required to use the RGB. 3 zone RGB backlighting with 12 pre-configured lighting modes. You can press the "FN" key + (1/2/3/4/5/6/7/8/9/0/-/=) any of these keys to jump from one RGB pattern to another. The membrane switches don't feel or sound like the mechanical keyboard. Mainly recommended for budget WOW gamers or entry-level gamers.
Honorable Mentions
ANNE PRO 2
4.6 out of 5 & 2,929 global ratings at Amazon
60% wireless keyboard, programmable RGB backlit, keycaps used are PBT type, USB type C connection available, can be used in both wired and wireless mode.
Logitech G910
4.5 out of 5 & 2,742 global ratings at Amazon
Romer-G tactile switches, 9 additional macro keys 5 on the left 4 on the above, multimedia keys, cool RGB backlighting, and detachable wrist rest.
BlackWidow Lite
4.6 out of 5 & 1,277 global ratings at Amazon
Quiet and tactile Razer Orange mechanical switches, TKL(ten key less) design, white individual key lighting, lightweight built, detachable cable.
Editor's Choice
After reviewing the best gaming keyboards for WOW shadowlands we have come to the conclusion that Razer Huntsman Tournament Edition is our best recommendation due to standard price, latest optomechanical switches, simple design, and 1 mm keycap press with the fastest response. Fewer budget players can undoubtedly go for Redragon K552, with solid performance and the most reviewed keyboard out there.
Related Article: The Importance of a Gaming Keyboard: Are Gaming Features Actually Important?
Frequently Asked Questions
What is the best gaming keyboard for World of Warcraft Shadowland?
Razer Huntsman Tournament Edition because of standard price, latest optomechanical switches, simple design, and 1 mm keycap press with the fastest response.
Is a mechanical keyboard worth it for gaming?
Most gamers prefer mechanical keyboards due to their fast response, tactile and durable.
Is the Tkl keyboard better for gaming?
TKL (ten key less) and 60% keyboards are optimal for gamers because of better positioning.
How much should I spend on a gaming keyboard?
$100 to $150 is the sweet spot for gaming keyboards.
Are membrane keyboards really that bad?
No membrane keyboards are not that bad but mechanical keyboards are more enjoyable to use due to tactile switches and fast response.
You might also like the following Article: Recommended Laptops in the US in 2023 [TOP21]