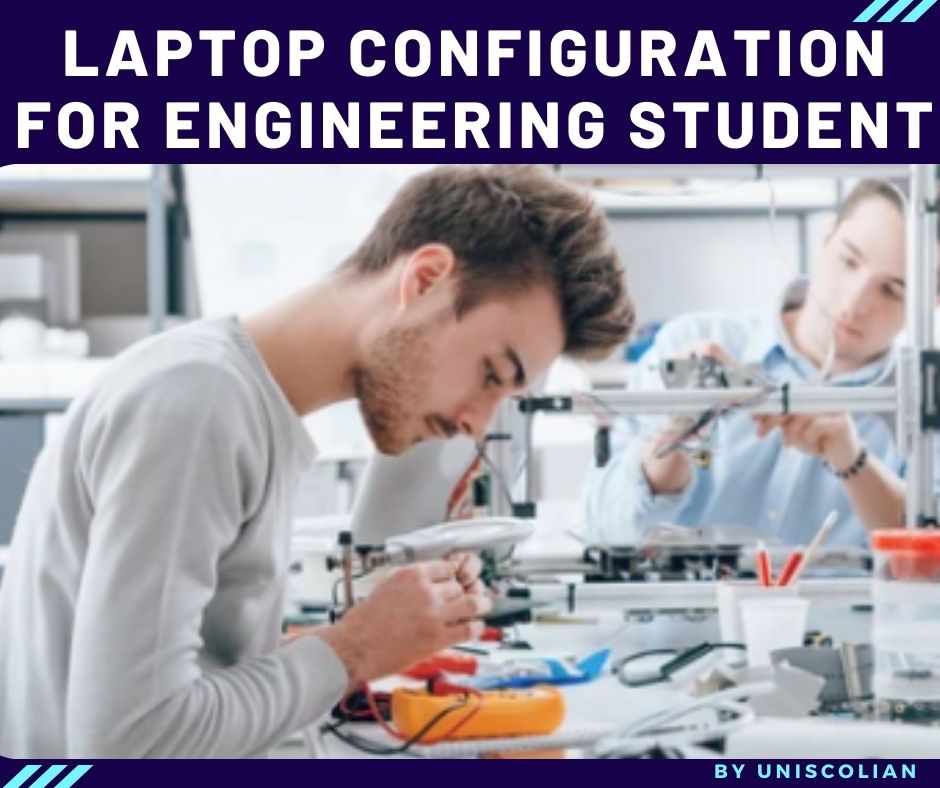 Looking for a laptop that is affordable and best suited for engineering students? First, you need to get an idea of what your average engineering student needs from their laptop. An engineering student needs to be able to use the computer extensively, either for taking notes in class, doing lab work on campus or working on online assignments. The goal here is not to acquire the most powerful laptop money can buy, but to find a good balance between affordability and performance.
When looking for a laptop, there are a few key factors you need to consider. Processor type and speed, hard drive capacity and graphics card all play important roles in how well your laptop will function while you're an engineering student. A laptop with a processor type like the Intel Core i7 is a good choice for an engineering student, as it will handle most tasks you need it to. If you're looking for a laptop that is going to last you through your engineering program, then you'll also want to consider how much hard drive space and RAM the laptop has. A laptop with 8GB of RAM and at least 750GB of hard drive space will be able to handle most tasks, but keep in mind that this is taking into account all the other things you might use your laptop for.
The last thing you'll need to consider when buying a good laptop for an engineering student is what graphics card it has. Graphics cards are generally not as important for most day-to-day tasks, but they can come in handy when you're working on 3D modeling or video editing. If you know that you'll be doing a lot of graphics intensive work while you're an engineering student, then you'll want to look for a laptop with a good graphics card.
All things considered, the average engineering student should look to purchase a laptop with an Intel Core i5, 8GB of RAM and around 750GB of hard drive space. A good graphics card won't hurt either!
What is the best laptop configuration for an electrical engineering student?
Electrical engineering is a field based on the study and application of electricity, electronics, and electromagnetism. Due to this strong relation to hardware, many electrical engineers must purchase their own computer system. Most commonly, this computer will be used for coursework in classes such as circuit design, CAD (computer-aided design), chip design, and prototyping. All of these tasks require a lot of memory and processor power, especially the CAD and chip design programs, for which having a powerful graphics card can lead to better performance.
For this reason, it is very important that when you purchase your computer system, you get one with high specifications in terms of CPU (central processing unit) speed, RAM (random access memory), Hard Drive (HD) capacity (and read/write speeds), and processing unit performance. Since it is likely that you will be doing a lot of multitasking between different programs in order to complete your homework, the faster your computer runs, the more profit you can make when designing circuits or prototyping soldered circuit boards.
There are a few key components which you should focus on when choosing a computer for your electrical engineering coursework, especially if you want to be able to design circuits and prototype them as well. First, is the CPU speed; obviously the faster the better since it will result in less lag time as you work on different tasks. For this reason, you should aim to get a laptop with at least an i5 processor.
Second, is RAM. It is important that your computer has as much Random Access Memory as possible so the program has the ability to access frequently used data and run multiple programs at once. For this reason, we recommend around 8 GB of RAM (don't buy less than that though).
Third, is the HDD. You should aim to have a laptop with at least 500 GB of hard drive space in order to store your coursework and other data. We recommend around 1 TB since it allows you have extra room for your work in addition to storing different apps/programs for school you might need.
Fourth, is the graphics card. This is especially important if you plan on taking any classes which involve CAD or chip design programs. The better the graphics card, the faster your computer will be in general. In order to get the best performance possible, we recommend a laptop with an NVIDIA GeForce GTX 1050 Ti or higher graphics card.
What's the best laptop configuration for a CS student?
Today, a computer is an obvious necessity for a student. It's also a large expense – one that should be considered carefully to ensure the availability of sufficient workstation resources for classes and personal projects. For students who are just starting out with computing, it can be hard to know what to look for in a laptop beyond the fact that it has a processor and a monitor.
Whenever possible, it's best to write programs on PCs rather than Macs. This is because the majority of programming publications are written in the C++ language, which can be difficult to compile on a Mac without extensive configuration. In addition, Windows is the standard platform for most academic software, and many Windows applications will not run on a Mac.
This means that it can be useful to invest in a Windows license rather than purchasing a new computer with Windows preinstalled. When buying a laptop, look for one that has an i7 processor and at least 8 GB RAM – these are going to be the most important factors when it comes to performance.
With those limitations noted, there are a number of laptop configurations that should work well for students. The ASUS ROG GL752VW , for example, is an excellent mid-range option with good processor and memory specs as well as a dedicated graphics card. If the student desires or requires an even more powerful system, then consider the Razer Blade Pro – this machine has an i7 processor and a GTX 1080 graphics card, making it an excellent choice for gaming or other intensive tasks.
For the budget-conscious student, laptops such as the HP Pavilion 15 and Dell Inspiron 7000 offer good value for their price tags. Both come with an i5 processor and 8 GB RAM, and can be easily upgraded if needed.
Ultimately, the best laptop configuration for a CS student depends on their specific needs and budget. By considering the things mentioned in this article, students can make an informed decision about what type of laptop is right for them.
What is the best laptop configuration for mechanical engineering students?
First, you need to decide the brand. Nowadays the market is flooded with brands like Lenovo, HP, Dell, ASUS, Apple etc. Out of all these big companies only a handful are good in their products which are durable and have high performance at moderate prices. Few of them are mentioned below:
i) Apple
ii) HP
iii) ASUS
iv) Lenovo
v) Dell
Second, you need to decide the laptop model. A lightweight and thin laptop with a long battery life is appropriate for use in classrooms where power outlets are not readily available. Below listed are few models of popular brands which will serve your purpose well.
i) Apple MacBook Air
ii) Dell XPS 13
iii) Asus Vivobook S13
iv) Lenovo ThinkPad X1 Carbon
Third, you need to choose the configuration of your laptop. A good configuration for a student is one which has at least 8 GB RAM, 500 GB storage space and i5 processor.
Some other important features which you need to look for when buying a laptop for a student are:
1) A backlit keyboard – This is a very useful feature as it helps in typing in low light conditions.
2) Thunderbolt ports – These are very fast ports and can be used to connect external monitors, hard drives etc.
3) Good battery life – Laptops with longer battery life are preferable as they can be used for longer without needing to be charged.
So, these are the three most important factors which you need to consider while buying a laptop for a student.
Apple MacBook Air is one of the best laptops for a mechanical engineering student. It is a lightweight and thin laptop with long battery life. It also has a backlit keyboard which is very useful in low light conditions. Another important feature of this laptop is that it has Thunderbolt ports which are very fast and can be used to connect external monitors, hard drives, etc. It also has good battery life.
So these are the three most important factors which you need to consider while buying a laptop for a student. Hope this article was helpful. All the best!