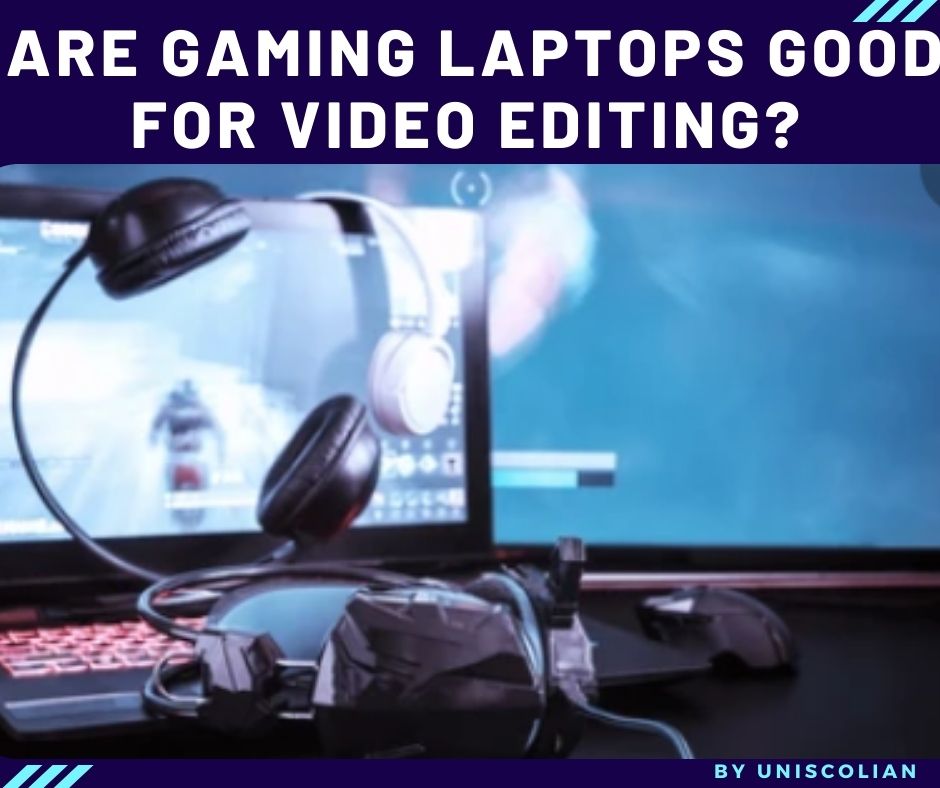 Years ago, the best way to become a video editor was to purchase a Core i7 desktop and get your work done with that.
Nowadays, laptops have caught up in terms of hardware performance and that has made some editors consider replacing their desktops with such devices. Are gaming laptops good for video editing? Can they be used for professional work?
Let's find out if the new wave of video editing laptops is better than the traditional ones.
For many years, there has been a debate on which type of computer is best for video editing – desktop or laptop? Desktop computers have long been considered as being superior to laptops in terms of performance. However, some editors are bound by their work to travel a lot. They need a computer that is fast, yet easily portable. And that is when laptops started to catch up in terms of performance as well as capabilities.
The first big improvement was the addition of an Nvidia GPU (Graphics Processing Unit) for the development of CUDA cores. These have been used for years by gamers and can be found in some traditional laptops as well. However, more recently, the major players in the laptop market – Lenovo, Dell, and Apple among others have started to include high-end graphics cards from AMD and Nvidia in their products. In particular, Nvidia GTX series offer a unique combination of high performance, low power draw and efficient cooling through its line of Max-Q design GPUs. These are currently more popular among gamers, but still include more than enough power for video editing tasks.
The next big improvement is the CPU (Central Processing Unit). Traditionally, Intel processors have been used in laptops due to their higher performance capabilities. However, AMD Ryzen processors offer similar or even better performance levels. Furthermore, AMD's new Ryzen APU chips bring together high-end CPUs with highly optimized integrated GPU. This means that the video editing performance of these laptops will be on par with desktops.
Another important thing to consider is RAM, or memory. A common misconception among professionals is that the more RAM you have, the better your computer performs. That is not necessarily the case. The best thing about RAM is that you can always add more of it to your computer, provided that there's a free slot available. Right now, most video editing laptops ship with 8GB or 16GB of RAM as standard. In the event that you need more than 16GB for heavy computational tasks such as rendering or encoding, you can always buy a laptop with 32GB or 64GB of RAM.
The other vital aspect is the display. A bright and vibrant screen is crucial for getting through your work quickly and efficiently. Obviously, not every organization has the budget to afford an Eizo monitor , but most companies already use Dell monitors . These are great for video editing as they support all common color spaces such as sRGB and Adobe RGB as well as common resolutions such as 1080p.
Another important thing to consider is the battery life of your laptop. Video editing can be a tedious and time-consuming activity, which means that you will most likely spend hours hunched over your machine without taking any breaks. In order to avoid discomfort and wrist injuries, it is vital that you invest in a laptop with great battery life.
The last thing to consider is the portability of your machine. Video editing can be a very demanding task, which means that you need a computer with a lot of power. As such, you will most likely have to work with the laptop plugged in. If you are required to move around quite a bit, then it is best to invest in a gaming laptop that is equipped with great cooling systems and has good battery life.
One last thing to keep in mind when buying a video editing laptop is the price. Editing video can be done on almost any machine nowadays, as long as it has some specific hardware components. That is why some companies offer special deals and discounts on second-hand laptops that had been used for the sole purpose of video editing.
As you can see, there are a lot of things to consider when buying a laptop for your video editing needs. If you stick with one of the big names in the business, such as Apple or Dell, you can rest assured that your machine will have everything it needs. Also, remember to use discount coupons from well-known websites to make a good deal even better!
I think "good" is a subjective term and it probably depends on who you're asking. For me, I would definitely say that a gaming laptop is good for video editing.
I think the bit about using discount coupons and big name brands to get a great deal is really important because it's something we can recommend as writers of an article like this. For those readers who aren't considering the idea of getting a gaming laptop, but might be considering another type of PC or laptop they can save some money by adding this tip.
Related Article: How to check the HDMI version of a laptop?
Video editing laptop specifications. Are they similar to gaming laptop specifications?
Video editing is the process of enhancing video or images by adding visual or sound effects. The effect can be subtle, like a filter that slightly changes the coloration, to more obvious ones such as replacing an entire background.
Video editors frequently use software running on a computer to build the sequence of images they wish to appear in the finished film.
This article will introduce various video editing laptop specifications. Are they similar to gaming laptop specifications?
Display
Video editing requires the visual interface to be crisp, clear and able to render the video into different formats that are visually appealing.
A high resolution display should be at least 1080p or 1440p for watching videos in full HD. For professional work, UHD displays are recommended.
Processor
The CPU required for video editing should be good at multi-tasking. It will need to handle the editing software, playback large videos and still run other programs without any lag.
A CPU with a high frequency of 3 GHz or more is recommended for video editors.
RAM
The RAM should be able to handle all your multimedia files in one place. Having a higher memory capacity will allow the video editor to store more multimedia files and open them at one time without any lag.
The computer's RAM should be around 16 GB for good multitasking. Operating System, software and data files can take up a lot of storage space and it is advised to have double or even quadruple this much space for video editing as well as having the computing power to handle all those files.
SSD
A separate solid-state drive (SSD) is recommended for video editing because of the speed and quick access times. It will allow you to save enough space by only installing the most commonly used software on a specific SSD, with a standard hard drive for storing large video files.
Uninterrupted reading and writing to the SSD will ensure smooth editing without any interruption. Since the data are being accessed faster, it will speed up the workflow in your video-editing process.
Graphics Card
Video editing requires a high quality graphics card to handle multiple videos that are being played back at the same time. Having a graphics card with 2 GB of memory will allow for basic HD video playback and provide enough performance to run most editing software.
Video editors should look for workstations or gaming laptops that have Nvidia Quadro video cards, which are mainly used in professional/ gaming workstations. The Nvidia GeForce was previously recommended but it cannot hold up to the demanding tasks of video editing and rendering.
Keyboard
A good keyboard will allow for fast workflow between software and improve typing speed, as well as comfort. A laptop keyboard that has lighting is recommended as it allows you to work in low-light conditions such as night time or dark rooms.
The keyboard should have a USB type C port so that you can transfer data quickly without the need for an external hard drive.
Cooling System
Prolonged use of laptops has shown to cause overheating problems that lead to malfunction or even breakage, which is why cooling systems are recommended in laptops for video editing. Fans are responsible for moving hot air along with cooling down components. A laptop that has 4-5 fans (including the processor fan) is recommended because it will allow for better airflow and more efficient cooling of components.
A good set of fans contains up to 6 small fans, which are located around the laptop. There should be at least one intake fan and one exhaust fan for cooling your laptop, which should be placed on the back of the unit.
Battery Life
Most video editing software are processor-intensive and will drain battery life quickly because of this. Video editors should look for laptops with a minimum of 4 hours of battery capacity. Laptops that run on Nvidia Optimus technology can provide up to 6 hours of battery life.
A higher capacity battery will allow you to use your laptop for longer periods of time without needing to be plugged into the wall, which is beneficial for video editors who may need to take their work outside or on the go throughout the day.
When doing more processor-intensive tasks such as rendering videos, you should look for laptops with a battery capacity of at least 4 hours.
Related Article: Is MacBook Air Good for Graphics Design?
How are gaming laptops specifications similar to video editing laptops?
Gaming laptops are usually equipped with more powerful components that allow for better gaming performance, but they can also be customized to suit video editing needs as well.
The base of the laptop will need to be strong enough to handle all of the hardware required by professional video-editing software, so a standard gaming laptop with an i7 processor will suffice for basic video editing.
A prosumer level computer should have at least 8 GB of memory and the appropriate graphics card to handle the heavy demands of professional video-editing software.
It is advised that you look into laptops that have a maximum memory capacity of 16 GB, which is usually found in higher end models that are built specifically for video editing.
Most prosumer level laptops will come with at least one SSD drive (128 GB) and a regular hard drive for storing large files, but it should also have an additional 1-2 TB of storage space to save long videos or even video projects.
The screen on a laptop for video editing should be sharp and offer some sort of color accuracy. If the laptop can also reproduce clear and crisp audio, then this will allow you to easily edit and produce your videos on the go.
An i7 processor is recommended as it allows for faster software performance that can unlock higher features within editing software.
A professional level laptop will need to have components that are able to match the demands of heavy video editing software. A custom built computer can be more expensive, but it allows for flexibility when choosing individual components within the unit.
While gaming laptops are usually equipped with more powerful hardware to handle high end games, they can also be customized or outfitted with the necessary hardware for video editing.
The base of a laptop used for video editing should be built with a strong processor and lots of RAM to allow the software to function smoothly. A laptop with an i7 processor will provide sufficient features when it comes down to basic video editing needs, but if you plan on doing more in-depth work, then you should look into laptops with an i7 processor accompanied by at least 8 GB of memory.
If you are looking for a laptop that can handle high-end editing software, then it is advised to have 16 GB of RAM or more. This will allow for faster processing speeds and lessen the potential of experiencing slow video rendering times.